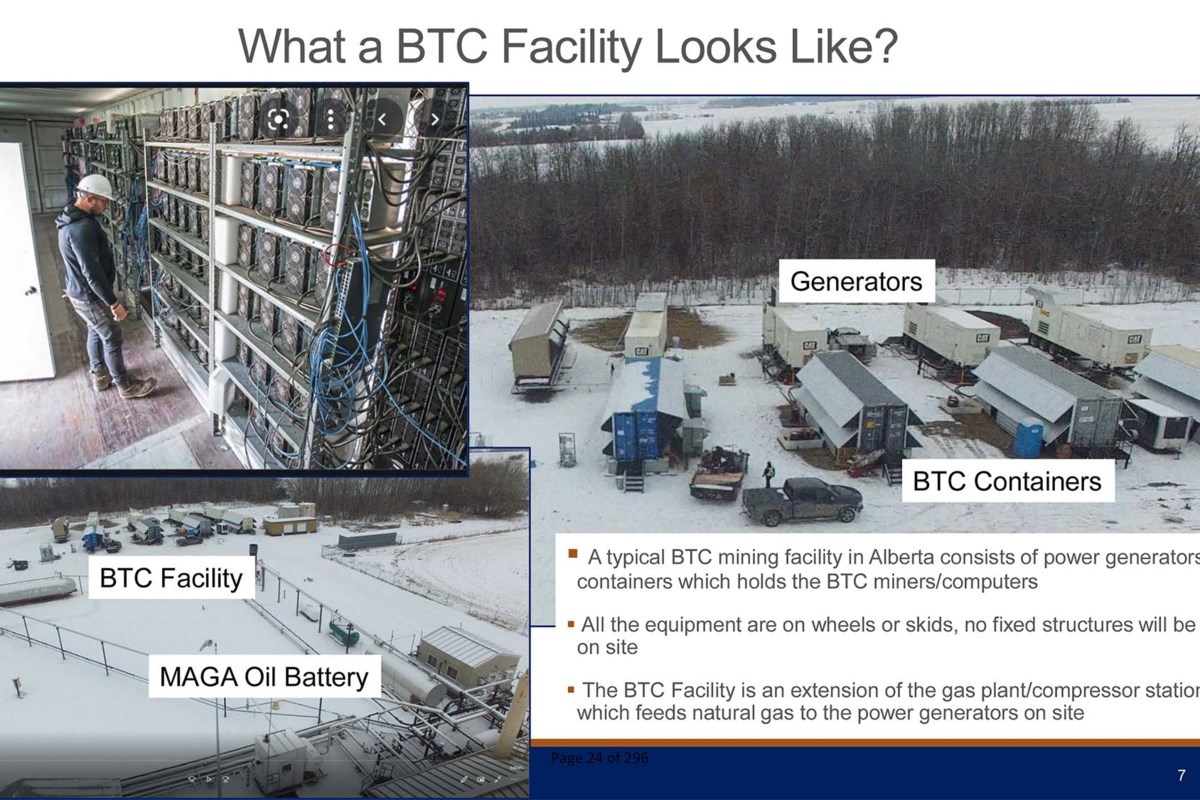 Sturgeon County could have legal cryptocurrency mines in operation on gas plant sites later this year now that county council has passed new laws regulating them.
Sturgeon County council voted 6-1 (Coun. Jason Berry opposed) to add new regulations for data processing facilities to the County's land-use bylaw.
County administration tabled the rules in January after Calgary's MAGA Energy proposed to use up to 60 natural gas wells in Sturgeon to power computers which would mine cryptocurrencies.
Cryptocurrencies such as Bitcoin are currencies secured through cryptography which can be "mined" by having computers complete complex and often power-intensive calculations. Bitcoin alone consumes as much energy as The Netherlands, noted County program lead for current planning Martyn Bell.
MAGA Energy has said that each of its mines would use 10 MW of power and create four jobs, Bell said. Each site is projected to produce about $19,740 in tax revenue a year.
Council previously heard that the company Link Global established an unauthorized data processing facility on a MAGA-owned site near Greystone Manor in 2020 which created "unacceptable levels of noise" while in operation.
During a public hearing on this bylaw last February, Greystone Manor Residents Association president Jeff Kocuipchuk likened the noise of the Link Global operation to the sound of several idling Boeing 737s, and called on council to require all data processing facilities with power plants to keep at least 1,500 metres away from any home.
In its written report, administration said such a setback would basically make it impossible for any such facility to set up in Sturgeon County. Instead, it recommended that such facilities be kept 1,500 metres from homes unless they had a sufficient noise assessment and mitigation plan in place.
The bylaw makes data processing facilities a discretionary use (i.e. subject to additional scrutiny from a development officer) in agricultural, resource extraction, industrial, and public utility districts, with permits for facilities in many of those districts capped at five years. The facility's look and landscaping must also meet the County's approval.
Coun. Kristin Toms said residents were shocked when they learned of the Link Global operation and frustrated that the County had no legal means to act against it.
"It is extremely important we give ourselves some ability to manage situations that are happening close to our residents, and I feel this bylaw is a great step in that direction."
In an interview, Berry said he opposed this new bylaw due to concerns over the noise produced by these sites.
MAGA Energy board chair David Tian said his company hopes to have the first of what will likely be about 10 data processing facilities operational in Sturgeon County in a few months.