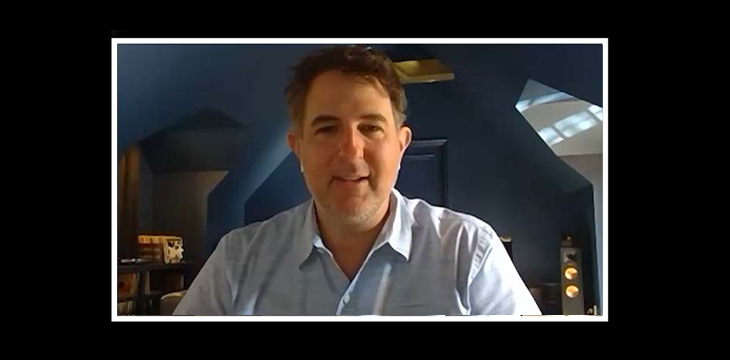 Rad CEO Tony Mugavero knows a thing or two about big entertainment brands—just look at the list of the company's content deal partners which include Disney, NBCUniversal, Fox, Showtime, Warner Brothers, and Sony.
And he knows about cutting-edge tech. Rad's current focus on blockchain follows pioneering work in VR, in which he also partnered with big entertainment brands.
But Tony is happy to admit that for Rad and for many others a couple of years ago, the VR revolution didn't quite happen. Back then, Rad was a VR streaming company—offering 360 video, 3D spatial audio and other innovative products. While VR "continued to take its time," as Tony puts it, Rad moved into more "traditional" video streaming.
Talking on this week's CoinGeek Conversations, Tony explains how he knew then that Rad "still needed a differentiator," rather than competing head to head with the likes of Amazon and Netflix. 
Blockchain looked like it could provide one. And so "we started working on incorporating smart contracts for content and handling royalty splits and payments." That was around the start of 2018, but once again Tony found he was ahead of the curve: "the world wasn't ready for it yet." Potential business partners were interested but not willing to dive in.
That was then. Today the world is catching up with Rad. And Rad is putting NFTs together with entertainment to create—inevitably perhaps—"NFTV". CoinGeek owner Calvin Ayre, through his Ayre Ventures, has recently announced an investment in Rad. And Tony is planning to incorporate the BSV blockchain as an important element in Rad's model for the future.
Last year, Rad started experimenting with its first NFT sales. For instance, you could buy an NFT for a high-quality video of a classic movie which came with a physical poster that would be shipped to you. The other side of the smart contract was that royalties and other payments would immediately be sent to anyone owed them, automatically and immediately the sale was completed. 
So how does BSV fit into the picture? Tony says that "Ethereum has gotten incredibly expensive" and "it's reasonably fast …but not that fast." BSV has the attributes people are looking for: 
"I think if you look at what's happening generally across the whole ecosystem, there's been a lot of development around 'how can we make blockchains faster and cheaper?' And so, ultimately, BSV clearly fits into that category. And you know, there's a community that's really excited about it and its potential and building on top of it."
One idea for using BSV would be as a kind of master data record for other chains: "If we have a bunch of different transactions that are happening on a bunch of different chains and you need a single record that's auditable that somebody can just say, 'Show me all the different things that are happening in this ecosystem,' then you don't want to go query every different blockchain and try to cobble that data together yourself. So simultaneously you can have a bunch of different buying and selling and minting and trading that's happening, but then have kind of a master ledger that tracks all of that information." 
As to whether NFTV will be working with the big entertainment brands or be more of a disruptive force in competition with them, Tony says that a move towards more control by both producers and consumers goes with a bigger trend: 
"I think it's a generational shift. It's not like one company comes out and completely destroys the whole entertainment business. It's how do we listen to creators and consumers and say, what are they doing, what are they trying to do? What do they want? And build something for that? And if that ends up going counter to the studios and what they're trying to achieve, they'll just need to listen to their consumers and their fans. And if they don't, then they'll die."
Adapt or die. That's one of the oldest rules of business—but one the big entertainment brands may need to keep in mind. 
Hear the whole of Tony Mugavero's interview in this week's CoinGeek Conversations podcast or catch up with other recent episodes:
You can also watch the podcast video on YouTube.
Please subscribe to CoinGeek Conversations – this is part of the podcast's fourth season. If you're new to it, there are plenty of previous episodes to catch up with.
Here's how to find them:
– Search for "CoinGeek Conversations" wherever you get your podcasts
– Subscribe on iTunes
– Listen on Spotify
– Visit the CoinGeek Conversations website
– Watch on the CoinGeek Conversations YouTube playlist
New to Bitcoin? Check out CoinGeek's Bitcoin for Beginners section, the ultimate resource guide to learn more about Bitcoin—as originally envisioned by Satoshi Nakamoto—and blockchain.